Creating memories
Creating memories that will warm your heart for years ahead.
Mykonos is a fantasy island for most and admittedly it is in many ways. All through the summer season and 24/7, this white washed Cycladic marvel is beating its own drum, welcoming jetsetters and globetrotters from all over the world for the Mykonos effect! Beach parties, yacht parties, villa parties, club parties, bar parties…the list goes on and on. The entire island is hosting exclusive, extravagant and over the top events and parties. That is the glamorous side.
There is also another side, the authentic side of the island. Mykonos is our homeland, our ancestors lived of this stark, rocky land and we are proud of our origins. As Mykonians we know how to work hard, yet remain open and inclusive to diversity. That is exactly why the island evolved so rapidly.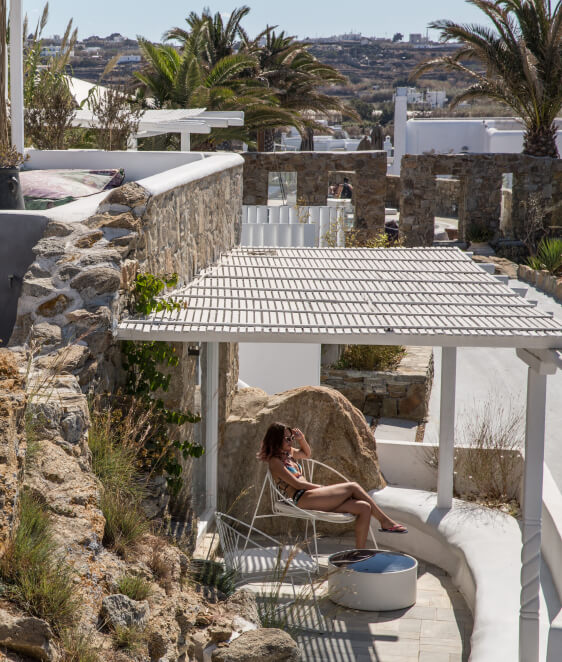 Be part of our story
Α home where everyone is welcome!
Mykonos is a bare dry land producing frugal means for everyday survival. However the island was blessed by the Greek Gods who spared no effort to give away, charm, beauty and energy. Perpetually Mykonos is like a siren of the Aegean Sea captivating with its allure, any visitor that sets foot. This is a precious gift and as such we, the locals, guard it and never take it for granted. We will treat you as a friend, as royalty, but most of all we will treat you as a human being in your happy place.

The services and amenities provided by Ostraco Suites, have been designed and continually grow by taking into consideration all of your feedback and comments regarding your needs and requests. Our interaction and connection helps us be better for you, so don't hesitate to start a conversation; we are happily at your disposal any time of the day.